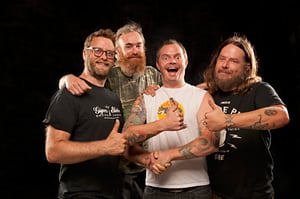 €

18.00
Nous avons changé d'adresse :
http://blackwavepromotion.limitedrun.com/categories/blue-wave-production-shows
*********************
Blue Wave Production & Metal Obs'Mag Présentent
RED FANG + THE SHRINE + LORD DYING
Lundi 20 Janvier - 20h30
@ Nantes, Le Ferrailleur
18 € en préventes et 20 € sur place
+1.10 € frais paypal
!!!
Nous n'envoyons pas les places par la poste, merci d'imprimer votre mail / reçu / facture paypal et la présenter le soir du concert.
!!!
******************************
RED FANG (Beer n Roll)
vidéo : http://www.youtube.com/watch?v=BJd7F8sAkJ0
son : http://redfang.bandcamp.com/
Deux ans après leur prestation Huge-issime (et sold out), les 4 gars de Portland reviennent avec un nouvel album "Whales and Leeches". Fun, stoner et rock n roll, laissez votre cerveau à l'entrée et venez faire la fête !
+
THE SHRINE (Fuzz n Roll)
vidéo : http://www.youtube.com/watch?v=KI7mDg6k4TA&feature=player_embedded
son : http://theshrine.bandcamp.com
Enfile ton bandana, ta plus belle moustache, prends ta planche de Skate et tu passeras inaperçu dans l'univers de THE SHRINE. Leur fuzz n roll qui sonne 70s ça défouraille ta grand mère (qui était peut être canon à l'époque) !
+
LORD DYING (Heavy n Roll)
vidéo : http://www.youtube.com/watch?v=wM2ofnC1r9E
son : http://lorddying.bandcamp.com/
Autrement appellés le " titanic heavy metal band", LORD DYING est un poid lourd du son bien gras US et des super soli. Si vous aimez les débuts de Mastodon, c'est une ouverture à ne pas louper !